With so many place names mentioned in the first reading today it may well be worth using a map when reviewing these readings. If you do look at a map1, you can see that Paul and Barnabas covered great distances and crossed the Mediterranean Sea in their zeal to preach the Gospel. This zeal to evangelise is a duty we all took on at our Baptism. For us, it might not involve the widespread travel of Paul and Barnabas, but we are called to share the Gospel with the people we meet. Even if it is other Catholics, I say this because we can all become a bit complacent at times and need the support, and challenge of our fellow travellers to give us this 'fresh heart' which we hear about today.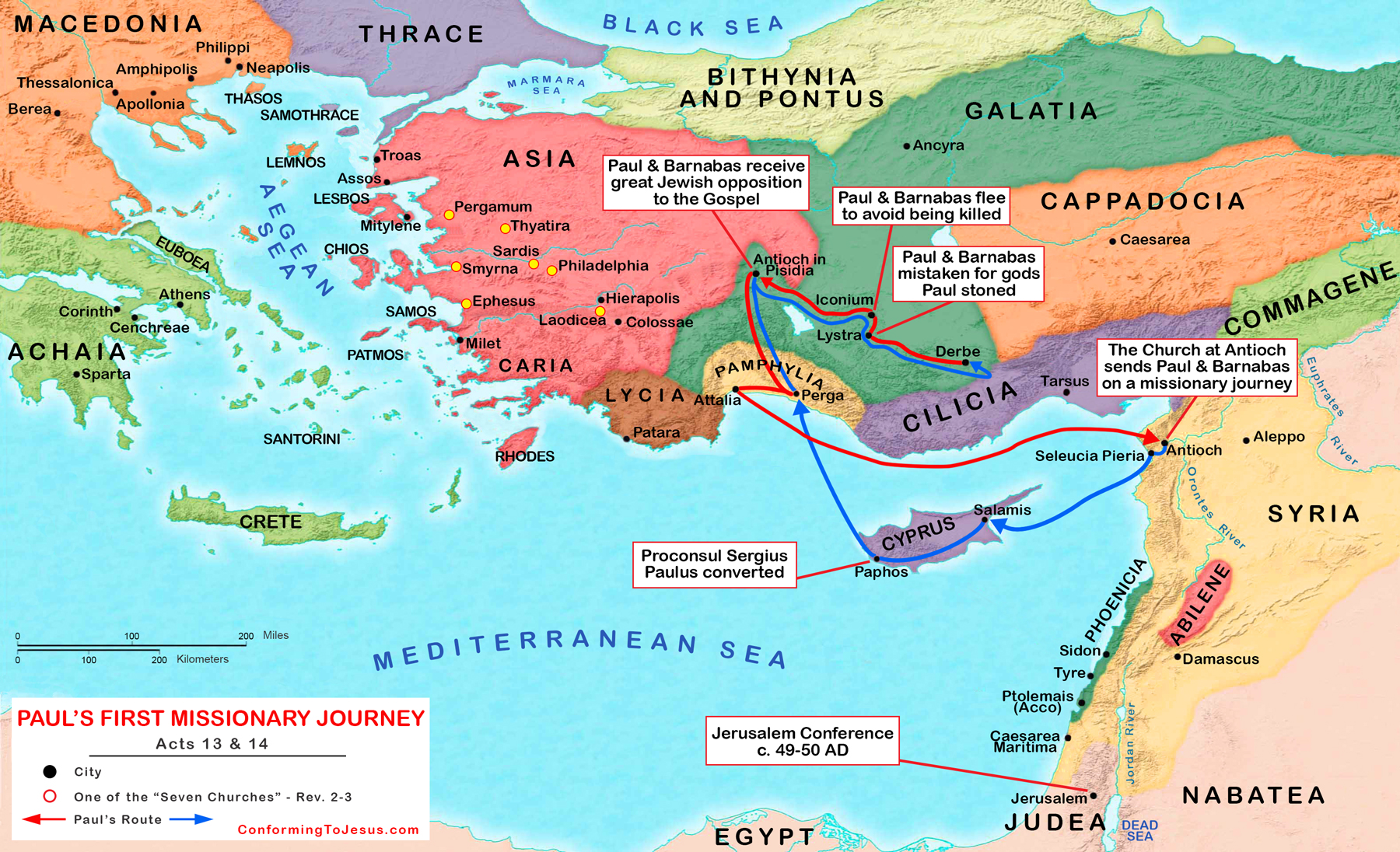 The places mentioned; in the first reading; are mostly in modern day Turkey. By telling us the names of the towns; St Luke, the author of the Acts of the Apostles; is telling us that Paul and Barnabas went to real towns, to speak with real people to bring them the real truth, which is the Good News.
Contrast this with the words in the second reading where the first earth and heaven have disappeared and there is no longer any sea. This new Jerusalem, which cannot be found on any map, is the city of God, our eternal home with God. Throughout Hebrew Scriptures the betrothal imagery of the bride and groom is used to demonstrate how close God wants to be to His people and how close we should be to God. While the imagery may be abstract, the message is not. God loves His people and has demonstrated that love since the beginning of time; in turn we should be demonstrating that love in the time we have been given.
The message or as we hear it, this new commandment given to us by Jesus in the Gospel today is that we can demonstrate our love of God by loving one another. Jesus actually goes further and says that people will be able to tell that we are His followers by the love we show to one another. This is not some passive love that we keep to ourselves. This is a love that everyone is meant to be able to see. It is how we can be identified as disciples of Jesus.
How can that love be recognised in me and in you today? If we walk down the main street of our village or town, how would people be able to tell the difference between us as followers of Jesus and an atheist?
If we say we believe in Jesus and do not do all we can to support the lonely, the sick, the homeless, those in prison, the marginalised in our society are we actually denying our faith? Are we denying Jesus?
Jesus did not say I would like you to love one another. He said I command you to love one another as I have loved you. We do not have the option of choosing who we love and who we do not love; because Jesus loves everyone; so, we have to love everyone.
I know that I struggle with this. Walking down many of the streets in our town we see people who need help. I regularly tell myself that I cannot help them all, trying to justify my inaction. Or I tell myself that I can help them on the way back; sometimes they are there on the way back and I offer help, other times they have moved on and I have missed my opportunity. Worse still there are times when I judge them.
But as I challenge myself, I realise that just because I don't have enough money left to give to someone else, it doesn't mean that I can't stop and have a chat with the person; acknowledging them as a human being; reminding me that there but for the grace of God; it may be me sitting there.
If I want to be part of that new Jerusalem, then I need to change. If I want to live in God's kingdom, where all tears have been wiped away and there is no more mourning or sadness, then I need to do my bit to reduce the mourning and sadness in this world, I need to help wipe away the tears of those who are struggling today. God has a task for everyone of us. I pray my task was not to help one of the strangers I have walked past. I pray my task has still to come and that when I see the next person in need, that I do not walk past them, judging them; or leaving them for someone else to help or worse still missing another opportunity.
In the past week it has been Mental Health Awareness Week. In the past two years we have been given heightened awareness of the importance to everyone of good mental health, one of the themes for this year is tackling loneliness. One way for us to love one another is to look out for the lonely, is there anyone you know who may need a phone call or a visit today? Is there anyone in your street who may appreciate a smile or you saying good morning to them as you walk past?
It was also International Nurses Day last Thursday; these are people who have a wonderful vocation and whether they are Christian or not, they exemplify the commandment given by Jesus to love one another as I have loved you. Again, the past two years have shown us how much we all need nurses as well as other health and social care professionals who look after us at the most critical times of our lives. I thank every one of you for the dedication you have shown, and I pray you will be given your just reward as new creations in the New Jerusalem; a place of beauty, where there are no more tears, no mourning and no sadness. I also pray that I can be there with you.
Further Reading
The Catechism of the Catholic Church
CCC 2746-2751: Christ's prayer at the Last Supper
CCC 459, 1823, 2074, 2196, 2822, 2842: "as I have loved you"
CCC 756, 865, 1042-1050, 2016, 2817: a new heaven and a new earth
Please keep in your prayers this week
The Ukrainian and Russian people, may they be able to live in peace.
Those who are sick, those recovering from surgery, those who are dying, the recently deceased and those who mourn.
All nurses and those who support them, as we have just celebrated International Nurses Day.
The Year of the Eucharist, that this will lead to a fresh outpouring of love by the people of God for the Body and Blood of Christ.
Those attending the RCIA course at St Bede's on Wednesdays.
Our Confirmation candidates as they continue their preparations.
Our young people who are celebrating their First Holy Communion this week and next week at St Bede's.
Families completing the Baptism preparation programme at St Bede's this weekend and for Kyra who was Baptised last weekend and for Remi who will be Baptised this weekend.
Fr Chris at St Joseph's who is sick and Fr John & Fr Dominic who are supporting St Joseph's at this time.
1 Paul's First Missionary Journey Map – First Mission Itinerary (conformingtojesus.com)